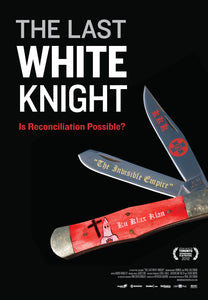 Paul Saltzman's courageous THE LAST WHITE KNIGHT was inspired by an incident during the early 1960s when he journeyed to the Deep South as a civil rights worker to help with voter registration in Mississippi, one of the hard-core bastions of the Old South. One of the first days he was there he was assaulted by a group of young men led by Byron "Delay" De La Beckwith, the son of the man convicted of killing civil rights activist Medgar Evers. Decades later, Saltzman returns to the south to meet with Beckwith and see what, if anything, has changed in the New South.  He interviews a wide variety of people from Harry Belafonte, the celebrated singer and civil rights activist, who recounts his own experiences during the voter registration drive; actor Morgan Freeman (who was born, and now lives, in Mississippi); a top FBI official, who discuss the close links between the police and the Klan during the period; to a group of kids from different races who are best friends; and (chillingly) a trio of dedicated, unregenerate Klansmen.

DVD FORMATS
Home Use - $25

This version is for HOME AND PRIVATE USE ONLY and not licensed for any type of institutional screening.
Educational DVD - Single High School License - $175

Includes Public Performance Rights (for classroom use) for one school only.
Not for circulation to other schools in your district.
K – 12 Schools Only.

Educational DVD - $275
Post Secondary, Institutional, and Corporate License.
Includes Public Performance Rights (for classroom and institutional use).
Includes the right to circulate within a school district or post-secondary institution.